Case Study: Smart Vision Lights
A Bright Idea
While working to solve quality control problems for Michigan manufacturers, Matt Pinter Co-Founder and Chief Technology Officer of Smart Vision Lights needed specialty LED lights. The lights were used in machine vision, a technology that allows machines to "see" using a camera and special LED lights. Without the right lights he could not get the results he needed, so he solved the problem by designing and building his own. In 2007 Matt and Co-founder Bobby Seagraves founded Smart Vision Lights, designing, and assembling the first light in Matt's basement with the help of local suppliers.
The Business Grows
Later that year, Smart Vision Lights left the basement and moved into Muskegon's Grand Valley State University's Innovation Hub. This move provided affordable space and was integral to keeping expenses down and forming key business relationships at a critical time of growth. Smart Vision Lights continued to grow both the product line and the number of employees, expanding their engineering and assembly teams. In 2011 they moved their operations into a larger facility in North Muskegon and hired Dave Spaulding as the President to oversee the global operations. In 2019 the team moved to a new state of the art 36,000 square foot corporate facility in Norton Shores. Today the business operates two facilities in Michigan along with sales offices in the UK and Slovakia. Together with over 100 distribution and reseller partners around the world their products are being used in thousands of installations globally in industries such as Automotive, Consumer Products, Electronics, Food and Beverage, Logistics, Medical Devices, Pharmaceuticals, Packaging, Solar and others.
Innovation
As the company grew, so did its reputation for innovation. With the industry's first built-in driver, award winning NanoDrive™ technology, SmartVisionLink™ allowing for wireless remote control to devices and numerous other industry Defacto Standard products Smart Vision Lights is a global leader in the design and manufacture of innovative LED lighting solutions for machine vision, logistics and automation.
Local Benefits
The new Norton Shores facility is state-of-the-art, offering a workout facility for their team and allowing for the creation of a training center. The vision for this training center is to offer free training to their distributors, reseller partners and their customers, as well as to colleges, universities, and high school STEM programs to help prepare their engineering and manufacturing students for working with automation technologies. In May 2020, the company hired Lakewood Construction, a well-known West Michigan contractor, to add yet another 30,000 square feet of manufacturing space attached to their current facility. The new manufacturing space is part of a re-shoring initiative, allowing the company to be less dependent on foreign suppliers as they manufacture their own components.
Commitment to the Environment
The Norton Shores facility was built with a commitment to the environment. There is a 153 kW solar panel system on the rooftop allowing them to produce their own electricity, and there will be another 168 kW of panels on the new manufacturing facility. Additionally, they have many recycling efforts under way to lessen their waste footprint.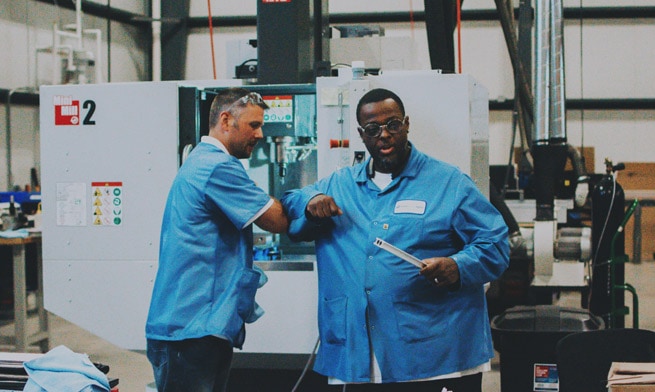 Commitment to the Community
Along with a commitment to the environment, Smart Vision Lights has a commitment to the West Michigan and global community. Not only are they working to create more jobs for West Michigan, they are also active in supporting community organizations through food drives, providing school supplies to children, and other efforts. In 2020 the company has also made over $250k in cash donations to over 30 different local and global charities and missions.
A Global Leader, Here in West Michigan
With a global sales and distribution network, Smart Vision Lights continues to pioneer innovative solutions in machine vision lighting, while creating manufacturing, technical and office jobs right here in the Muskegon area.
Smart Vision Lights
5113 Robert Hunter Dr.
Norton Shores, MI 49441